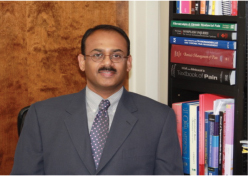 Dr. Davis Thomas successfully completed his Bachelor of Dental Surgery (BDS) from the prestigious Kasturba Medical College, India, in 1992. He then joined New York University (NYU) College of Dentistry in 1994, where he received his Doctor of Dental Surgery (DDS) three years later. In 1998, he went on to complete one year of Advanced Education in General Dentistry at NYU.
In 2002, he established his first practice in Oakhurst, NJ and while in private practice, he took several Continuing Education courses at reputed US dental and medical schools in the field of TMJ/TMD and Orofacial Pain. To further his education in this area, Dr. Thomas joined the Post Graduate Fellowship in TMD and Orofacial Pain at the University of Medicine and Dentistry of New Jersey (UMDNJ) in 2005. After completing the fellowship he then went on to receiving his Masters (MSD) in Orofacial Pain, also from UMDNJ. Dr.Thomas is now currently doing a Masters in Sleep Medicine (MSc Med) with the University of Sydney, Australia.
Dr. Thomas now continues his research on pain at UMDNJ, where he is also an Assistant Clinical Professor in the Diagnostic Sciences Division. There, he is in charge of the dental treatment of established Orofacial Pain cases.
The experience and education Dr. Thomas has acquired over the years has allowed him to lecture extensively all around the world. He has presented several posters and papers at international pain conferences, and met with leading researchers in the field.
Dr. Thomas also acts as a consultant to several dental and medical insurance companies by performing Independent Medical Exams. He has been a commissioned officer in the United States Army since 2001. He is also an Attending at Monmouth Medical Center in Long Branch, NJ.
Dr. Thomas continues to practice in two locations in New Jersey and places an emphasis on treating Craniomadibular Disorders and Obstructive Sleep Apnea.