What is Full Mouth Reconstruction?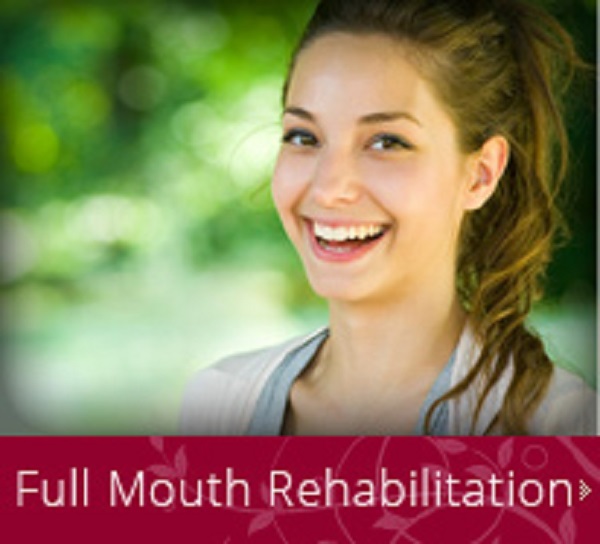 Full mouth reconstruction (or, Prosthodontics) is a dental specialty that focuses on complex dental issues, which can include severely decayed, broken or worn teeth, as well as complicated bites (malocclusions) which can inhibit speech and eating.
These dental complications require various delicate and sensitive reconstructive treatments to restore full health, form and function. Full mouth reconstruction transforms dental health to provide patients with an improved quality of life.
What time scale is required for full mouth restoration?
Time needed to complete full mouth restoration is different for each patient. Extensive dental damage requires greater treatment and a longer treatment time, whereas minimal damage can be corrected much more quickly. Naturally, each reconstructive treatment varies in length and scope. You can discuss the timescale for your individual treatment with your Malo Smile USA dentist anytime. Just give your nearest Malo Smile USA dental office a call and speak to our friendly staff. They will arrange an appointment.
The full mouth reconstruction procedure
The full mouth reconstruction procedure begins with a thorough dental examination to assess the patient's oral health, which includes, the periodontal tissue, jaw muscles, as well as the color, shape, and size of the teeth. X-rays, photographs, and impressions of the teeth will also be taken with the help of a periodontist or orthodontist
Before any reconstructive treatments can commence, the teeth must first be cleaned. Your personal Malo Smile USA dentist begins by cleaning the healthy teeth, before moving onto the infected or damaged tooth. The gums will also be checked for gum disease. Gum disease must be treated before the full mouth construction goes ahead.
Used to restore damaged, decayed, or missing teeth, dental implants are often essential for full mouth rehabilitation. Implants are titanium screws placed into the jaw bone. They function as the tooth root and provide a lifetime of strength and support for the replacement crown. Implants restore full performance, and allow for comfortable biting and chewing.
Dental crowns (or caps) fit over injured or infected teeth to restore strength and shape. Crowns are strong and permanent restorations which also enhance appearance. They mimic the enamel of natural teeth for an attractive and realistic finish.
Porcelain veneers are the perfect solution to many dental imperfections, such as, crooked, discolored and chipped teeth. They are wafer-thin, custom-made shells of porcelain bonded to the front surface of the teeth. Depending on your preferences, porcelain veneers can be made to whiten your teeth, or to match the existing shade or your enamel.
What are the benefits of full mouth reconstruction?
An attractive smile — full mouth reconstruction surgery can straighten crooked or misaligned teeth, whiten discolored or yellow teeth, and even out gappy or gummy smiles.
Healthy teeth and gums — free from tooth decay and gum disease
Improved confidence and self-esteem — your teeth will look and feel so much better!
A fully functioning set of teeth — you can eat, speak, and smile with confidence and ease.
Full chewing capacity — there's no need to avoid hard or chewy foods. Get ready to enjoy a varied and nutritious diet!
No more dental complications or imperfections — missing, broken, damaged, infected, and crooked teeth are fully restored!
Improved quality of life — a beautiful smile and good dental health can help the way you feel about yourself and your life, and can even improve your relationships with friends and family.